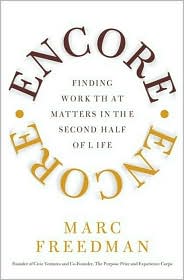 I'm sure you've heard my title before at every concert you've ever attended, but I do not refer to a concert here. I refer instead to the wonderful book by Marc Freedman, now out in paperback, called
Encore: Finding Work in the Second Half of Life
. What a wonder it is.
Mr. Freedman is the Founder and CEO of
Civic Ventures
—their tagline is "helping society achieve the greatest return on experience." And that is the core of his message in the book.
Millions of us are approaching the second halves of our lives. We don't want to stop working but many folk who've done their time in corporate America want meaning over money and to contribute to the greater good as well as earn something of an income.
Retirement, it turns out, ain't what it's cracked up to be. Truth to tell you, I've never witnessed anyone retire particularly well unless they had a passion to do something they couldn't do whilst they worked. And no one ever thought that people would retire at 65 and then live another 30 to 40 years!
What to do? What to do? Take a page out of Mr. Freedman's book. Give yourself a "gap year," to contemplate where you might like to go, what sector you might like to impact, how your experience might apply in other areas, what issues make your blood go. Learn, open yourself to reflection from within and without.
Then, try on a couple of careers for size. Volunteer. Be an adult intern. Get in on the ground floor. The trenches. Check it out. See if it still makes your blood pump. Treat this time like your annual Back-to-School clothes-shopping trip. Try things on! And if you like, excellent, and if you don't, move on. Work in the second half of life is meant to be fulfilling—both for your cause and for your self, and this, dear one, is the key to it all.
Work, no matter what kind, has to be fulfilling to the worker as well as to the business or else it's not real, inspired work. This is Spiritual Law.
Mr. Freedman is a visionary, a wise, practical one. He has a vision and a plan of action that anyone can use. The stories he tells of encore career pioneers are heartening. Every one of them listened for and found their heartsong. Then they sang it!
Encore,
Encore
! Bravo!